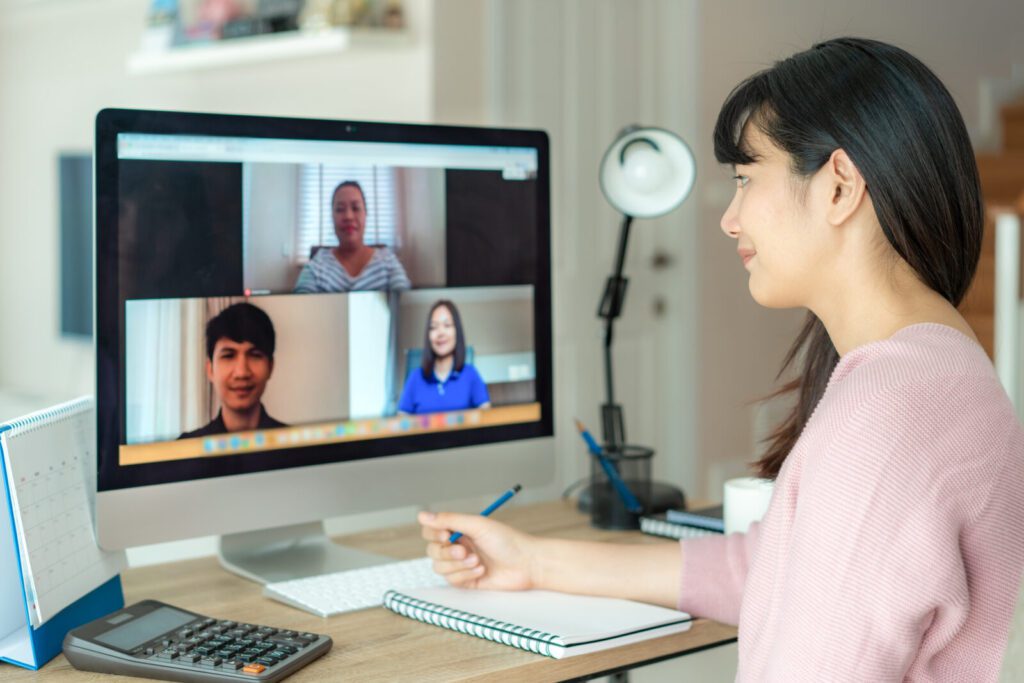 With online meetings, our work environment and how people work together is different. The following Concordia Consulting On Demand programs offer team building and skill building courses that can be tailored to your specific needs and provided virtually.
With all the change, some employees are even busier than ever, but others have time to pursue professional development. These tailored programs can be offered to even one person at a time and they are ready right now!
Increasing Positivity and Decreasing Stress:
Module I: Misconceptions About Happiness and Stress Reduction
Module II: Our Expectations and How They Create Joy or Stress
Module III: Our Biases and Our Backgrounds
Module IV: What It Takes to Really Reduce Stress
Module V: Implementation
Modules VI to X: Sticking With Your Own Commitments to Yourself
Increasing Engagement During Virtual Meetings: (45 minutes, longer with practice time)
Start With the Basics — Lighting, Volume, Background
Work With a Co-facilitator
Use Polling, Breakout Rooms, White Boards, and Screen Sharing to Increase Effectiveness
Practice With Messaging and Private Messaging
Practice Before You Are "on the Hill" and "in the States"
Hiring the Best Talent: (Three 1 hour sessions to include preparing the scenarios)
Interviewing Skills
Using Your Network
Keeping Your Pipeline Filled Even When There Are No Positions
Considering the Best Methods of Advertising
Creating Diversity in the Applicant Pool
Conducting the Screening Interview
Legalities to Remember
Preparing Scenarios
Staying in Communication Without Making Promises
Welcoming the New Hire
Email Taming and Best Practices: (30-45 minutes)
When to Use Email and When to Use the Phone or a Webinar
Email Etiquette Regarding Timing
Your Email Signature
Who to CC and BCC
Response Time and Your Industry
Out of Office Responders
Importance of Subject Lines
Email Lives Forever
Your Server and Your Email
Best Practices in Your Organization
Facilitation Skills: (Three, 60 minute sessions with individual review)
Including the Right People in Meetings and What to Do When the Wrong People Attend
Setting a Realistic Agenda
Finding Common Goals When There Are Competitors in the Room
Developing a Common Purpose
Increasing Engagement and Overcoming the Norm
Preparing Questions in Advance
Handling Disagreement
Working Through Passivity
Voting Techniques
Using Chat Rooms When Presenting Virtually
Overcoming Resistance
Leading High Performers: (One, 60 minute session, with discussion)
Allowing High Performers Autonomy
Creating Ways to Provide Positive Public Feedback
Creating Development Opportunities
Promoting the Positive Work of Employees
Giving Feedback to Anyone, Anywhere: (One, 60 minute session, with discussion
None of us work in isolation, and all of us have bosses, colleagues, vendors, and employees we need to effectively interact with.
How do we share our observations?
How do we tell them that we are upset?
What happens if they yell at us, shut down, cry, or walk out of the room when we tell them?
What if you had a model that made it easier to give feedback and more importantly, made it more likely for the person to hear it?
In this workshop, you will learn and practice a model that will help you give feedback to the most easy and open people at work, as well as those who are not.
Delegation Effectiveness: (One, 60 minute session, with discussion)
How to Transition from Doer to Leader
Managing People Who Are Already Leaders
Delegating Is Also Managing Up
Managing Up: (One, 60 minute session, with discussion)
Your Role in Creating Culture
Being Candid Without Being Upset
Excellent Organizations Have Unified Teams
Sharing Your Perceptions Tactfully
Why We Don't Manage Up
If Not Now, When?
Writing and Delivering Motivating Performance Appraisals for Managers:(Three, 60 minute sessions with individual review)
Setting Realistic Objectives
Keeping a Weekly/Monthly Journal
Communicating Expectations Throughout the Year
Building Trust and Dialog Throughout the Year
Developing Questions That Promote Dialog
Documenting Wins
Utilizing the Self Appraisal
Incorporating the Self Appraisal Into the Document
Brainstorming Areas for Growth
Conducting Performance Appraisal Discussions for Over Achievers
Conducting Challenging Performance Appraisals
Blame, Shame, and It's Not My Fault!: (One, 60 minute session, with discussion)
Our Natural Inclination to Blame
Separating Blame and Accountability
Why Organizations Struggle With Accountability and How Accountability Helps Trust and Performance
Goal Setting: (One, 60 minute session, with discussion and email follow up)
Goal Setting and Priorities
"Chunking" and Making Intermediate Goals
Defining Smart Goals
Writing Goals and Creating Ways to Measure and Revise
Managing Disagreement and Conflict: (Two 60 minute sessions, with a 5 minute fun homework exercise)
Using the Thomas Kilmann Conflict Mode Indicator, you will learn more about your conflict management style.
How Others in Your Work and Personal Life Perceive You
How to Find Common Ground
How to Influence Others
How to Impact the Outcome of Decisions and Behavior
Presentation Skills: (Three, 60 minute sessions with individual review)
Defining Your Purpose
Creating Clarity Around Your Audience
Establishing Rapport in the First Minute
Creating Appropriate Visuals and Supporting Materials
Recognizing the Difference Between Presenting, Lobbying, and Testifying
Preparing Questions in Advance
Preparing for Difficult Questions
Preparing for Difficult Audience Members
Role Playing and Practicing
Reviewing Your Work and Getting 1% Better Each Time
The Art of the Anecdote
This session will be devoted to helping you craft and deliver your own story.
Effective presenters draw us in by involving our emotions.
While data is critical to their message, what's often lost is the emotional message. What is the human plight?
How are you integrating stories into your briefings, testimony, and meetings?
What stories make you relatable and influential?